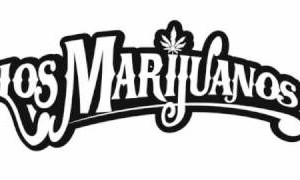 Los Marijuanos Bio
Los Marijuanos was formed in Chicago Il. The members are a revolving trio with front man Pony Boy as the anchor to the group. The group quickly became an attraction in the hispanic, hip hop and marijuana advocate communities. Los Marijuanos made a name for themselves performing at lowrider shows, hemp legalization rallies and festivals. The group released their first album Puro Pleito/Pure Drama on Sept, 24, 1999 on Chicago based indie label Wicked Entertainment. Pure Drama was a fusion of pot inspired lyrics delivered with Pony Boy's spanglish flow over groovy beats. Pure Drama also had appearances by E.C Illa, Mob Axshin and more.
After the success of Pure Drama, Los Marijuanos  with Wicked Entertainment released  their 2001 follow up entitled "The Smoke Out". Once again Los Marijuanos satisfied their audience with tales of all things green. With appearances by Chicago artists Psycho Drama, Triple Darkness, Disco & Vibe  and nationally syndicated radio host Mancow muller "The Smoke Out" became an instant hit.
Prior to the release of "The Smoke Out" Los Marijuanos was engulfed in a huge controversy with rap trio Cypress Hill. Apparently west coast rap group Cypress Hill along with Jane's Addiction, Deftones, Downset and Everlast had formed a supergroup using the name Los Marijuanos. This prompted  Wicked Entertainment to send all parties including Paul Rosenberg, manager of Cypress Hill & Eminem a "friendly cease-and-desist letter stating that the group has recorded under this name since 1998, and that they would appreciate it if the California collective would come together under another name". Pony Boy elaborated  on this in a interview stating "This is kind of f.cked up," muses lead rapper Pony Boy, but it's really just kind of strange. Los Marijuanos  have been tight with Cyphress Hill's's Sen Dog for the past few years, and we even represent his "Latin Thug" clothing line." He also goes on to say ""It's kind of perplexing because members of this group are our homeys, but sh.t, we have our second album coming out in less than a month and we don't need to go confusing people. We have a hard enough time as an indie group, We're all down for this music and this legalization movement, and if we can't get this right, who can?"
Los Marijuanos are the new breed of Mexican Pro-Pot-Poets. They are two time (13th and 14th Annual) High Times Cannabis Cup performers in Amsterdam, as well as 2 year co-headliners for the great Seattle Hempfest, performing next to Kottonmouth Kings, Sir MixALot, Daz & Kurupt, Badazz from the Dog Pound and others. They've been leaders in the Million Marijuana March in downtown Chicago, IL plus dozens of hemp fests featured in multiple magazines including: SKUNK Magazine, High Times, The Source, Murder Dog and Ill Tip, to name a few. Always performing for the cause, Los Marijuanos were featured on the Latin Throne DVD.
With their strong R&B hooks sung by PonyBoy  and stories of real life situations of the Barrio, the War on Drugs and the marijuana legalization movement, Los Marijuanos is seeing growing popularity amongst the Latin Hip Hop community and beyond. Ponyboy has worked with many other Latin Hip Hop artists such as: Baby Bash, Coolio, Psychodrama, Co-Still, Kinto Sol, El Chivo, Latin Assassin, So-low, FCM Click, The Untouchables and others.
Los Marijuanos are modern Day Hemp Freedom Fighters. Preaching the legalization vibe everywhere they go! their music can be defined as "good get high music" by their legions of fans worldwide. Their music is for the patients, the growers, the care givers, hemp believers, smokers and the tokers as well as the weed sellers all over the world.
los Marijuanos Por Vida!